Mercedes-Benz Express Service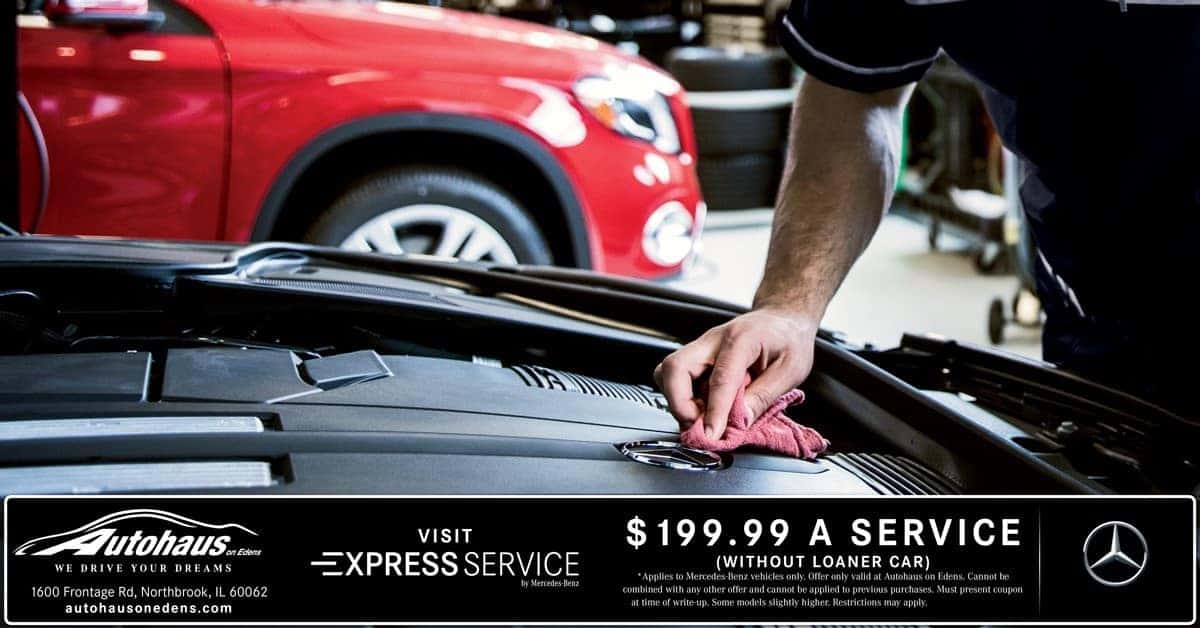 Stay On Schedule With Express Service
Staying on the strict maintenance schedule that a Mercedes-Benz vehicle demands can be tricky for Northbrook, IL area drivers. Express Service allows Mercedes-Benz owners to get the routine auto maintenance that their vehicle needs without having to set appointments or spend hours waiting. With Express Service, you can receive routine vehicle service maintenance in about an hour or less with no appointment required. Actual servicing duration may vary based on external circumstances.
At Autohaus on Edens, you can expect a higher level of service and Express Services is your best option if your in a hurry. Our goal is to deliver the same high quality service that we are known for, but without hassle of a long wait. Visit our Mercedes-Benz dealership when your schedule allows getting the safe, efficient service that your vehicle requires.
What Does Mercedes-Benz Express Service Offer?
Autohaus on Edens understand the hectic lives that our Northbrook, IL area customers lead, which is why we are now offering Mercedes-Benz Express Services for customer on-the-go. Our Express Services include:
Service A for MY09- Newer Mercedes-Benz vehicles*
Oil and Filter Change for MY08 and older Mercedes-Benz vehicles
Battery Check
Battery Replacement
Light bulb replacements
Tire Rotation
Wiper Blade Replacement
Air Filter Replacement
Dust Filter Replacement
Multi-point Vehicle Inspection
*Applies to MY08-older
Why Choose Autohaus on Edens as your Express Service Dealership?
Autohaus on Edens Service Center is filled with friendly faces eager to help you with all your Mercedes-Benz vehicle maintenance needs. Our Technicians are Mercedes-Benz certified, meaning they are specially trained to work on your Mercedes-Benz vehicle. In addition to our hard working and reliable staff, we also offer:
Free Shuttle Service
Free Wi-Fi
Entertainment
Snacks and Refreshments
Free Car Wash
Where Can I Take Advantage Of Mercedes-Benz Express Service Program?
You can receive top quality service through the Mercedes-Benz Express Service Program at Autohaus on Edens. Please pull up to our Service Garage at front of our store and one of our helpful Service Consultants will assist you.
Located at 1600 Frontage Rd Northbrook IL 60062
Call (847) 272-7900 for more information.
When Can I Bring My Mercedes-Benz Vehicle for Express Service?
Northbrook, IL area drivers can bring their Mercedes-Benz vehicle to Autohaus on Edens Express Service Center:
Service Info
Christmas EveClosed
Christmas DayClosed
New Years Eve7:30 AM - 4:00 PM
New Years DayClosed
Mon - Fri7:30 AM - 6:00 PM

Sat8:00 AM - 3:00 PM

SunClosed
Mercedes-Benz Express Service Available
Autohaus on Edens encourages Northbrook, IL area Mercedes-Benz owners to stop by whenever it's time for their vehicle to be serviced and take advantage of our Express Service. Whether you're looking to get an oil change for your MY08 or older Mercedes-Benz vehicle or need tire services, Express Service is the ideal solution for those in a hurry. If you have any questions about our Express Services please contact our service center through our website, by phone at 847-272-7900 or stop by our Mercedes-Benz dealership today.
*With Express you can receive routine vehicle service maintenance in about an hour or less with no appointment required. Actual servicing duration may vary based on external circumstances. Price advertised for Service A/Service B includes all factory-required components. Please refer to your maintenance booklet for the complete list of factory-required services and details on the specific intervals for your vehicle's year and model.