Mercedes-Benz E-Class in 2017 Preview for Northbrook, IL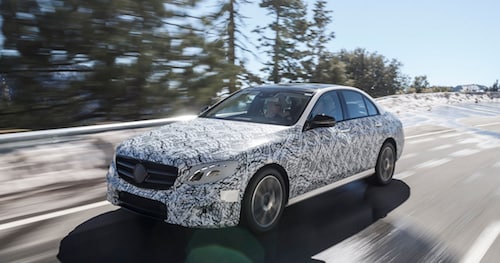 Mercedes-Benz is not planning on revealing the new 2017 E-Class in full until the 2016 Detroit Auto Show later this month, but they are perfectly happy with giving us glimpses. These sneak peaks have been more than enough to keep customers asking about the latest E-Class model. We've narrowed down and compiled what we consider some of the most innovative upgrades.
2017 Mercedes-Benz E-Class Interior Design
A 12.3" customizable instrument cluster blended into a second 12.3" central display screen for an elegantly elongated stretch of almost floating display framed in piano lacquer.
A smartphone-esque touchpad controller on each side of the steering wheel to control the two display screens.
Horizontally oriented buttons, rather than the typical stack.
LED light strips running the length of the dash and doors with 64 color options to choose from in ambient lighting.
Newly designed seats inspired in shape by the human body for ultimate comfort.
2017 Mercedes-Benz E-Class Technology and Intelligent Drive
Auto speed adjust based on location or highway signs recognized by vehicle cameras, as well as adaptive cruise control and lane keeping assist
Digital Car Key using NFC technology in your smartphone
Remote parking
Car-to-X communication means your Mercedes E-class model can find information, such as nearby accidents or road blockages, from the cloud that are submitted by other vehicles
Multibeam headlights with 84 LEDs which can be individually activated for optimal illumination based on surroundings
PRESAFE® accident preparedness systems for unavoidable collisions
It's looking like the 2017 Mercedes-Benz E-class will more than live up to its reputation for sophistication and cutting-edge tech and design. View our current inventory of Mercedes-Benz E-class models, and keep checking back with us as we learn more about the next generation.