Preview of the 2017 Mercedes-Benz SLC for Northbrook, IL
2017 Mercedes-Benz SLC: A Preview in Northbrook, IL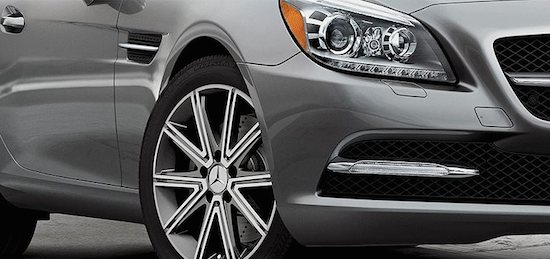 Mercedes-Benz C-Class sedans will need to make room for a new companion. The Mercedes-Benz SLC is making a solid comeback for the 2017 model year. When the 2016 SLK finishes its run, it will be rebadged as the 2017 SLC. Although specific details on the 2017 SLC are still kept under wraps, some pretty revealing spy shots have been released, and performance feature speculation has run rampant.
Longtime Mercedes-Benz enthusiasts may remember the SLC from the 1970s, when the SL-C fixed-roof version was on the market. Much more advanced and modernized, the 2017 SLC is sure to become a beloved Mercedes-Benz C-Class model. It looks like the 2017 SLC will be released in at least two different model configurations:
SLC 300 with a 2.0-liter 4-cylinder turbocharged engine with 241 HP and 273 lb.-ft. of torque
SLC 450 AMG® 3.0-liter twin-turbocharged V-6 engine with 362 HP and 384 lb.-ft. of torque
Tech, safety, and design features are rumored to include a 7.0-inch center screen, standard BRAKE ASSIST PLUS®, and updated leather upholstery. Mercedes-Benz plans to reveal the 2017 SLC at the 2016 Detroit Auto Show, which starts the thirteenth of this month, so keep your eyes and ears open!
Visit our new online inventory to see which 2016 Mercedes-Benz C-Class models we have in stock. For more information, get in touch with us by phone or through our website for more information.